Richmond, Virginia May 15 - 17, 2019
Ecology • Evolution • Epidemiology • Medicine • Neuroscience • Fluid Dynamics

The conference will have plenary talks, break-out sessions, and a poster session. We welcome participation from researchers at all academic levels working in mathematical biology.
Plenary Speakers
Monica Hurdal, Florida State University
Nina Fefferman, University of Tennessee
Claudia Lerma, Instituto Nacional de Cardiología, Ignacio Chávez
Tim Sauer, George Mason University
Organizing Committee
David Chan (VCU), Elizabeth Cherry (Rochester Institute of Technology), Amy Cochran (University of Wisconsin), Cheng Ly (VCU), Reginald McGee (College of the Holy Cross), Reed Ogrosky (VCU), Angela Reynolds (VCU), and Rebecca Segal (VCU)
If you have any questions, please email BAMM@vcu.edu
VCU Department of Mathematics and Applied Mathematics
Grace Harris Hall
1015 Floyd Avenue
Box 842014
Richmond, Virginia 23284-2014
804.828.1301
DEADLINES!
| | |
| --- | --- |
| Abstract Submissions | Closed |
| Travel Award Application | Closed |
| Registration | 4/23/2019 |
| Refund Request | 5/1/2019 |
Registration is now open. Please register via the Registration Form before the April 15th deadline. Registration is $100.
Abstract submission is now closed.
BAMM! abstracts will be published upon acceptance through VCU Scholars Compass, an open access publishing platform. Every abstract will be searchable and citable. Visit BAMM-VCU webpage.

Holiday Inn Express Richmond - Downtown
The group rate is $121/night plus taxes with the BM9 group code. This rate includes breakfast and wifi. Parking is $8/day. The rooms will be available at this rate if booked by April 14, 2019.
If you are interested in sharing a room while attending BAMM! please fill out this Roommate Matching Form. You will then be given access to the contact information for others seeking a roommate.
VCU Map :
http://www.maps.vcu.edu/monroepark/

Richmond travel info:
http://www.visitrichmondva.com/
http://www.virginia.org/visit_richmond/
Parking is available nearby in the parking decks (88 and 89 on the map). Cost of parking is $10 per day. FREE Street parking is available within a short walk on Main St and Cary St every day. Please pay attention to parking restriction signs.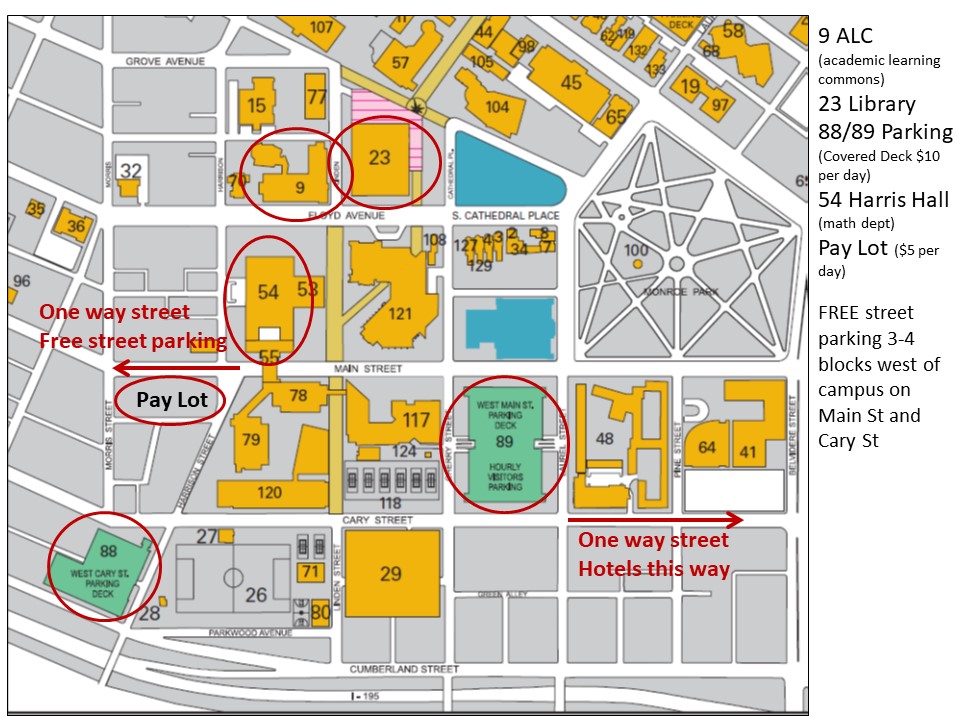 The main conferencevenue is the Academic Learing Commons on VCU's campus located at 1000 Floyd Avenue.
Wednesday (5/15)
8:45 am Welcome
9:00 am Plenary: Monica Hurdal
Coffee
Morning Parallel Sessions
12:30 pm Lunch on your own
2:00 pm Plenary: Tim Sauer
Coffee
Afternoon Parallel Sessions
5:30 pm Evening Poster Session
Thursday (5/16)
9:00 am Plenary: Claudia Lerma
Coffee
Morning Parallel Sessions
12:30 pm Networking lunch
2:00 pm Plenary: Nina Fefferman
Coffee
Afternoon Parallel Sessions
4:30 pm Evening Richmond Event
Friday (5/17)
9: 00 am Morning Parallel Sessions
1: 00 pm End
This conference is held in cooperation with AWM and supports the Welcoming Environment Statement of the Association for Women in Mathematics.
This Conference is Sponsored by: